Day of Russia at the Russian Consulate in Houston
Russian Heritage Society was invited to be part of the day of Russia celebration in Houston.
The Russian Consulate General in Houston is the national state office of international relations, which within its consular district (includes: Alabama, Arizona, Arkansas, Colorado, Iowa, Kansas, Louisiana, Mississippi, Missouri, Nebraska, New Mexico, Oklahoma, Texas) exerts vested responsibilities on behalf of the Russian Federation. The Consulate General is an integral part of the Ministry of Foreign Affairs of the Russian Federation.
Jane has been a volunteer for many events of the Consulate General office: consulate outreach sessions, WWII medal award event in Saint Louis, WWII veteran list assembly, assistance with polling space set up etc.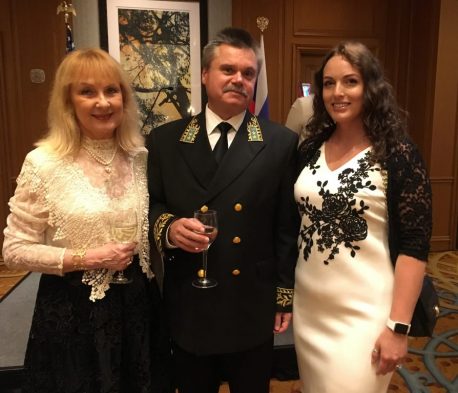 With Mr. and Mrs. Pisarev at the reception
Meeting with industry professionals