Умерла
Розалия Христофоровна Асоян
С Розалией Христофоровной мы познакомились более пятнадцати лет назад. С первой минуты общения, я была поражена её живости и харизматичности. У Розалии, когда она еще жила в квартире в центре Канзас-Сити, всегда были сладости для гостей. Приходишь к ней, тут же чай и торт, как будто ждала… Розалия решила, что хочет рисовать уже в 83. Она посещала уроки рисования некоторое время, а потом нарисовала столько картин, что стала дарить их своим друзьям. Мне одна тоже досталась. Есть в ней такое что-то магическое: вечер, девушка стоит у дерева на берегу озера и смотрит на свет в окошке дома. Я еще тогда спросила: «Розалия, это вы?». Картину Розалия подписала «Женечке на память». Роза. У Розалии никого не было в Канзас-Сити, муж умер давно, она так и была одна. Мы редко говорили о нём, хотя несколько раз она грустно о нём вспоминала.
Розалия была необыкновенная, сильная духом, мужественная, но очень женственная. Всегда она была ухожена, с красивой прической, длинными ногтями и конечно всегда улыбалась.
Мы часто навещали Розалию, когда она переехала в дом престарелых. Постепенно она стала забывать кто к ней приходит, но каждый раз с удовольствием с нами знакомилась. Мы пели ей песни, знакомые с юности, а она улыбалась. Первого апреля ей исполнилось бы 99 лет. Хрупкая женщина, которая была актрисой театра Баку, снайпером во время Великой Отечественной Войны, свободным художником, уснула 27 марта 2022 года.
Спасибо Вам, Розалия, за наше общение. Пусть земля будет пухом.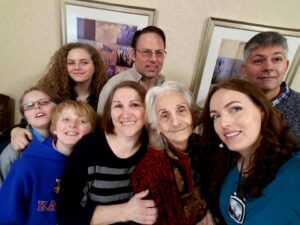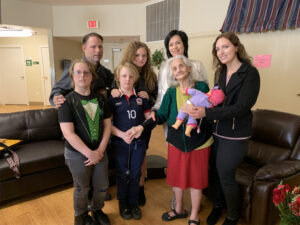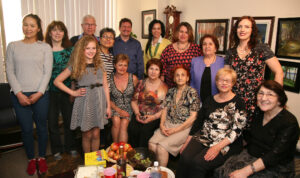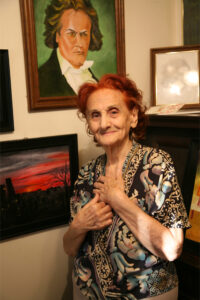 ..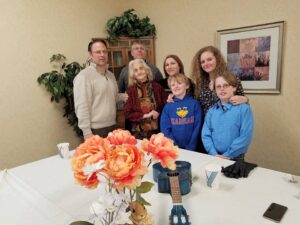 Celebrating WWII Victory Day
Celebrating 92nd birthday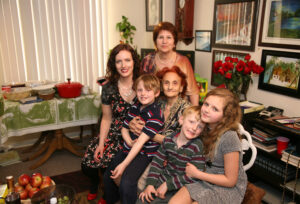 ---
Visiting Rozalia in the nursing home in 2021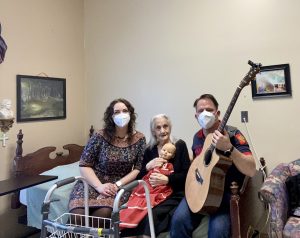 SWWII Veteran Medal Award 2015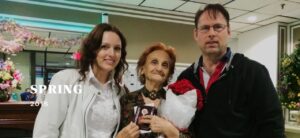 .
Rozaliya Asoyan
We met Rozalia Asoyan more than fifteen years ago. From the first moment I was astonished how charismatic and lively she was. When Rozaliya lived in downtown Kansas city apartment, she always had sweet for guests. When we visited her, she would always make tea with cake as if she was prepared to see us. Roza decided she wanted to paint when she was 83 years old. She was attending art lessons for some time and later drew so many paintings that she started giving them as gifts to her friends. I dot one too. There is something magical in this painting: young girl standing by the tree next to a lake and looking at the light in the window of the nearby house. I asked her then: "Rozalia, is that you?" She signed it for me "To Jane as memory". Rosa. Rozalia did not have any family members in Kansas city, her husband died and she has always lived alone since. We rarely talked about him, only a couple of times she mentioned him with sadness.
Rozalia was an incredible person, courageous, strong willed but very feminine. She has always looked neat, with nicely styled hair, long nails and she was always smiling.
We often visited Rozalia when she moved to the nursing home. Gradually she started forgetting us, but every time she was happy to get acquainted. We sang songs to her that were familiar to her since youth, she smiled. She would have been 99 on April 1st. Fragile woman, who was an actress in Baku, sniper during the World War II, an artist, she fell asleep at night on march 27 2022.
Thank you, Rozalia, for your friendship. May you rest in peace.