Victory Day 2020
August 1st, 2020 Russian Heritage Society celebrated 75th Victory Day Anniversary. The Celebration took place at the Elmridge room of the Tomahawk Hills Golf Course.
The program of the evening included: buffet style appetisers, music program and special scholarship award: Doctor Sergey Charanov scholarship 2020.
Megan Luttrell, the musician from Lawrence Kansas perfromed "Moscow Nights" to open the celebration . Megan has been learning Russian language in the University of Kansas. Her repertoire includes several songs in Russian such as: Black Eyes, Kalinka, Moscow Nights.
"Thank you for asking me be part of this special event." Megan Luttrell
"World War II took at least 25 million people in Russia alone."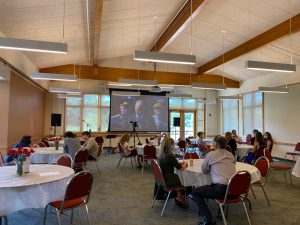 Elmridge Room
Tomahawk Hill golf course
The celebration incuded watching the Victory Day parade that took place in Moscow, Russia. Jane also shared videos of previous Victory Day celebrations. Dan and Jane performed traditional songs and shared pictures of WWII veterans.